Fixed Rate Home Loan
A fixed-rate home loan is a type of home loan wherein the borrower is protected from sudden and potentially significant increases in monthly mortgage payments. Your loan's interest rate is locked in for a set length of time, often one to ten years. During this period, you enjoy fixed home loan rates and your required monthly repayments will stay the same. Your mortgage will only change into a variable interest rate when this term expires.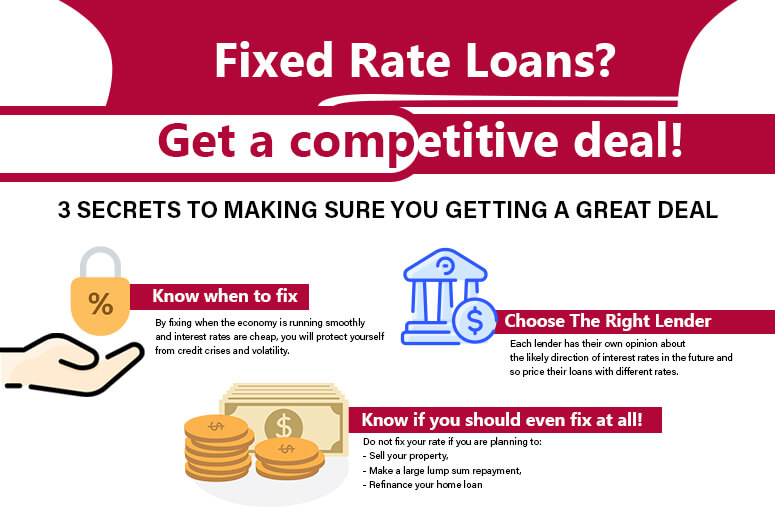 Call Us to Get The Best Fixed Home Loan Rates
---
How Does a Fixed Rate Loan Work?
Most banks and lenders offer fixed-rate home loans. When you apply for a home loan, your lender will give you the option to have a fixed interest rate. Here, any interest rate changes (whether an increase or decrease) will not affect the agreement, up until it expires.
Because your repayments will not vary over the fixed loan period, a fixed house loan provides more stability than a variable home loan. If your monthly mortgage payments are $2,500, they will remain the same for the life of the fixed period. This is why fixed-rate mortgages are so popular, especially with first-time home purchasers and investors. 
Advantages and Drawbacks of Fixed Home Loan Rates
Home loan fixed interest rates may be preferred for people seeking stability and avoiding risk. Investors and first-time homebuyers prefer fixed home loans because they seek payments predictability during the first few years of ownership. You will know the exact cost of your periodic loan repayments over the next few years (or however long your interest rate is fixed). So, it will be a lot easier to manage your finances. Additionally, this sort of house loan is beneficial when you lock your loan at a low-interest rate. If the official cash rate rises throughout the term of your fixed rate, you won't be affected.
However, if the official cash rate causes interest to fall below your set interest rate, you will not enjoy any savings because your interest rate and repayments will remain at a higher rate. Other than that, if you want to terminate your fixed-rate contract or decide to sell the property, you may be charged a break fee or other penalties, which can be costly. Moreover, making extra repayments may carry a cost, be limited to a particular amount, or be prohibited.
Find the Lowest Fixed Home Loan Rates with iChoice!
The only way you can fully enjoy the advantages of having a fixed rate home loan is if you get the lowest fixed home loan rates. At iChoice, we can help you find the best fixed home loan rates. So, you can always afford your monthly repayments. And, even if the rates decrease during the period of your agreement, you still would not be paying much difference. 
We are widely connected to various banks and lenders that offer fixed home loan rates. Therefore, we can surely lead you to the direction of the loan that will provide you with the most savings. Not only do we check their interest rates, but we will also consider your qualifications to make sure your home loan application gets the highest chance of getting approved. Beyond that, we'll work around your schedule and gladly do all the legwork for you. So, you wouldn't have to stress yourself with the tedious process of applying for a fixed-rate home loan.
To learn more about fixed-rate loans and how we can help you, get in touch with the mortgage experts at iChoice. You may contact us through our website or by calling us on (02) 9743 0000.