Home Equity Loan
What is a Home Equity Loan?
 If you have paid a significant amount on your mortgage and your property's value has increased over time, then you've successfully built up equity on your home loan. This not only means you'll soon be finished paying your mortgage. It also allows you to gain access to a huge amount of funds quickly. This form of funding is called a home equity loan. It can be used for a short period of time (typically 2 to 36 months) and for different purposes.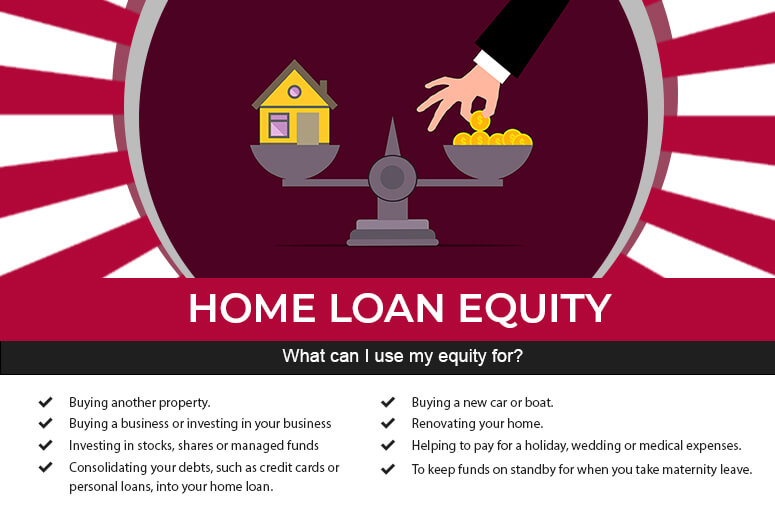 At iChoice, we know all the processes and requirements needed to secure home equity loans in Australia. While it may not seem as easy as applying for a regular home loan or a personal loan, with an experienced mortgage broker on your side, you won't have to worry. We can tell you all about home equity loans and taxes, as well as other information you may need before pursuing your application.
Benefits of Equity Loans to Australian Homeowners
Interest rates are lower compared to personal loans and credit cards.

Access to large funds quickly.

Widely offered by a variety of lenders, including private lenders, in Australia.

Often require minimal paperwork and can be done online.

You can easily find an online home equity loan calculator to see if it fits your situation.
Reasons Why You Might Need a Equity Home Loan
There are a number of reasons Australian homeowners find applying for a short-term home equity loan to be necessary. Here are some of them.
Home equity loans are often used for renovations that add to the home's value, particularly in preparation for the property's sale.
Buying an Investment Property
A home equity loan can be used as a deposit for an investment property, with an additional mortgage secured by the new property.
Paying a Large Financial Responsibility
Since it gives you access to a large sum of cash, a short-term home equity loan may be used to pay a one-off large tax bill or assist with ongoing school fees.
If you have a number of personal loans and credit card bills, you can use a short-term home equity loan to pay them off. This way, you won't have to deal with high-interest rates and only have one loan to think about.
Nowadays, a short-term home equity loan is increasingly used to acquire publicly-listed shares.
A short-term home equity loan can also be used to build or grow a business, either through the purchase of stock or equipment, paying wages, and general cash flow needs.
iChoice Can Help You Obtain an Equity Loan!
Do you need money to fix your property, invest in a business, or simply pay off a huge bill? If you have built equity on your home, then it might be worth considering applying for a home equity loan. While it may sound complicated, it's quick and stress-free with the help of experts at iChoice. We can guide you through the process and answer all your questions about home equity loans. So, you don't have to worry about committing to a loan you can't afford. We'll also give you the right options that suit your current situation and connect you to lenders that will find your application agreeable. For a free consultation, call iChoice today on (02) 9743 0000.