Lenders Mortgage Insurance Waived Home Loan
Getting a home loan is the easiest way to quickly purchase a new house. All you need is the required deposit, good credit, and proof of your income, and you'll surely find a good lender that will let you borrow at least 80% of the property's value. However, if you lack enough cash for a deposit, you'll need to obtain a loan of more than 80% of the purchase price. While it's not impossible, you're most likely to be forced to pay a Lenders Mortgage Insurance (LMI). This protects your lender in case you default on your mortgage and there the value of your property falls lower than what you owe.
Can LMI be Waived?
The good news is, many Australian lenders offer home loans with waived LMI. This typically applies to borrowers with high-earning and in-demand professions and will help you save thousands of dollars. Just also make sure that you have a good credit record and can demonstrate your ability to commit to your repayments.
Lenders tend to waive mortgage insurance (LMI) house loans to:

Highly-paid professionals such as doctors, accountants, and lawyers.

Individuals that invest in DHA properties.

First-time buyers with a guarantor can borrow up to 105 percent of the purchase price without incurring LMI.

Homebuyers (some lenders waive LMI if you borrow more than 80% of the property's worth)
Individuals who fall into the above categories are viewed by lenders as creditworthy. Since you have a stable income or means to guarantee repayments, lenders will be happy to loan you 85 to 90 percent, sometimes even 100%, of the property's total price. Even if you're still starting out, with a high-paying profession, lenders will compete to offer you loans with attractive packages. Aside from waived LMI, you may even be getting lower interest rates and better terms all at once.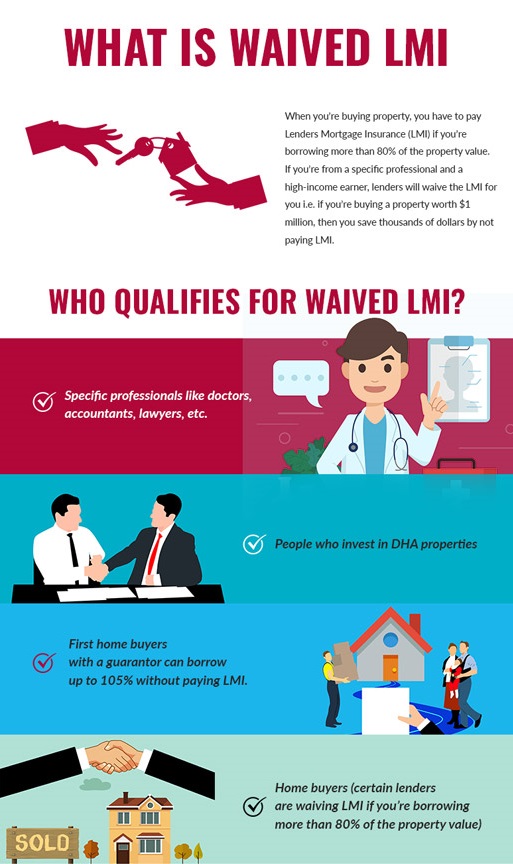 Call Us to Get Have Your LMI Waived Home Loan
---
Some lenders may also issue an LMI waiver to someone who does not work in these. Be sure to do your research or consult a trusted mortgage broker to find the best deals available for your qualifications. There are also LMI calculators available online that will help you set your expectations about your home loan.
Can a First-Time Homebuyer Get an LMI Discount?
If you don't qualify for a waived LMI, you might still be able to get an LMI discount. Several mortgage insurance firms offer first-time homebuyers a 25 percent to 33 percent discount on their LMI payment. This is only offered through lenders who work with these specific LMI providers and have negotiated a discount on their customers' behalf. In most situations, your home loan must be less than $1,200,000, and your deposit cannot be borrowed.
iChoice Can Help You Get Home Loans with Waived LMI
Here at iChoice our mortgage brokers know which lenders and mortgage insurers are the most affordable. We can help you find which bank would offer you waived LMI. More than that, we can help you find the ones with the low-interest rates so you can confidently afford your monthly repayments. 
Do you want to buy a property at an LVR of more than 80%, with lower interest rates? Consult our experts at iChoice. We will evaluate your financial situation and offer you the best loans and solutions that will guarantee the approval of your home loan. We also know which banks waive LMI and have access to LMI specials not advertised to the general public. Call us today on 02 9743 0000 to speak with one of our professional mortgage brokers.