Home Loans for Doctors
Lenders generally view those employed in medical and allied health professions as a preferred category. This is because of their higher earning capacity and excellent reputation as low-risk borrowers. If you're a doctor, it won't be difficult for you to secure a home loan. Lenders are competing for your business. So, you can expect to get LMI waivers, interest rate discounts, and other benefits on your home loan. It's also easy to choose a lender with various doctor home loan calculators available online. However, if you want the best possible deal available to you, it's always better to work with a reliable mortgage broker.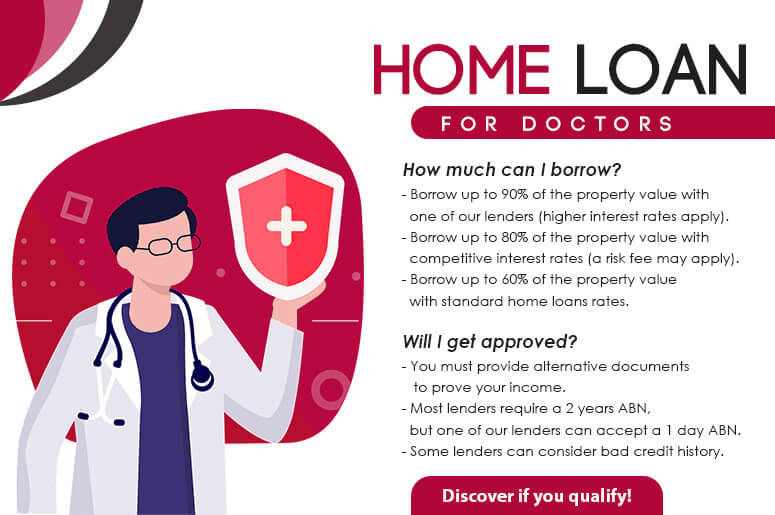 Call Us to Get The Best Doctor Home Mortgage Loans !
---
Special Home Loan for Doctors – Doctor Home Loan Calculator – Home Loan Rates for Doctors
At iChoice, we understand that being a doctor demands most of your time and energy. We are prepared to work around your schedule and do most of the legwork involving your home loan application. So, you can focus on your work and saving lives. More than that, we have access to lenders that offer exclusive deals you might not be able to avail of on your own. This means you can even get lower interest rates, discounts, and several other benefits that won't be offered to others.
What Makes Home Loans For Doctors Different Than Other Loan Types?
While the process of applying for all types of loans is quite similar, home loans for doctors offer more benefits. Typically, when people apply for a home loan, they are asked to get LMI for a deposit less than 20% LVR. However, as low-risk borrowers, doctors can save thousands of dollars because lenders waive LMI even with a smaller deposit. LMI waivers can reduce the cost of a $500,000 loan by about $8,000. And, with a loan of $2,000,000, doctors can save over $50,000. Beyond that, you may also be eligible to get special discounts on interest rates and other fees.

As a doctor, you can:
Borrow up to 100% LVR with waived LMI.

Borrow up to $4.5 million or more on home loans and investment property loans (depending on your circumstances).

Be eligible for special interest rate discounts and waived home loan fees.

Avail of professional packages with special rates, terms, and services with one single annual fee, enabling you to save on interest discounts, maintenance, and other bank fees.
It's helpful to know, however, that your home loan terms and other benefits may vary depending on the chosen lenders' policies regarding professional status, ongoing income, loan amount, credit score and history, initial deposit, and the properties to be purchased. Complex arrangements, such as using a trust or making multiple property purchases, generally come with an extra fee.
iChoice Can Help You Secure A Home Loan for Doctors!
Working with an experienced mortgage broker can save time and get you the best deals on your home loan or other loan packages. At iChoice, we have brokers that specialise medical professional loans. We know how to handle your application to guarantee loan approval, even when you're still at the beginning of your career. If you're ready to take the next step, don't hesitate to call iChoice at (02) 9473 0000. We're more than happy to share all the information you need and help you reach your goal of ownership through the best doctor home loan available to you.