Low Doc Home Loan
Sole entrepreneurs, small company proprietors, independent contractors, and freelancers are becoming increasingly common in Australia nowadays. This is because of the attractive benefits not having a boss can offer. However, if you're hoping to secure a home loan, being self-employed might be a challenge. This is because you may lack the income paperwork typically required by lenders for a home loan. But, with a low-doc loan, you may still be able to get the financing you need, even without the usual documentation lenders require. With low doc loans, you may use different income verification methods to demonstrate your ability to repay a loan. 
What is a Low Doc Loan?
Low-doc mortgage loans are offered for both owner-occupied and investment homes. A typical low-doc home loan necessitates a 20% down payment from the borrower. Aside from the method by which the borrower's income is confirmed, all other features of a low doc house loan are the same as those of a standard home loan. You can also get a no deposit low docs home loan, depending on the lender.
Unique Requirements for a Low Doc Mortgage Loans
While you do not need to supply all of the typical documentation as you would for a standard home loan, lenders still require some documents. On top of your proof of identification, you may need to provide some or all of the following.

Income declaration form

Statements of recent business activities (BAS)

Your ABN, as well as your registered business name

Bank statements

GST registration information

Accountant's letter outlining your financial situation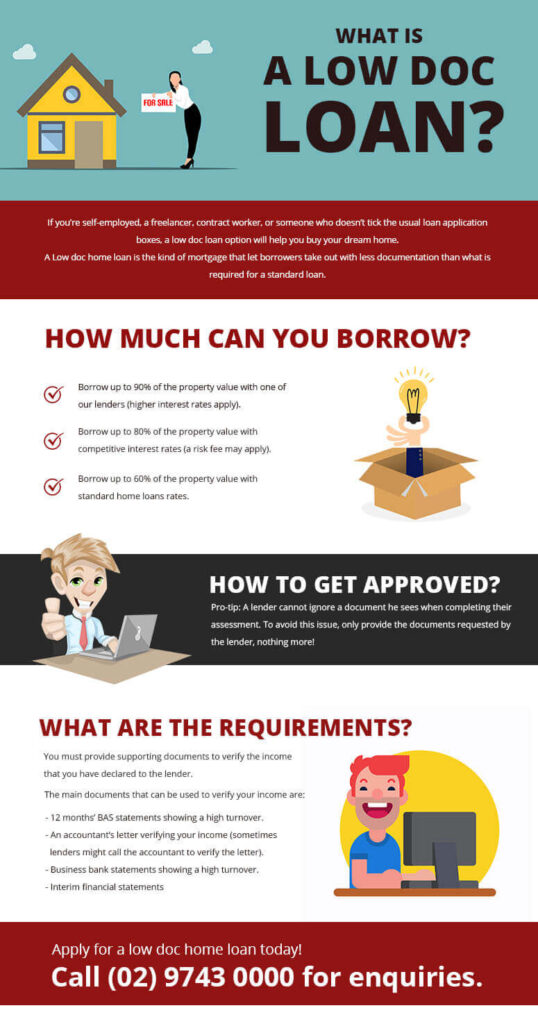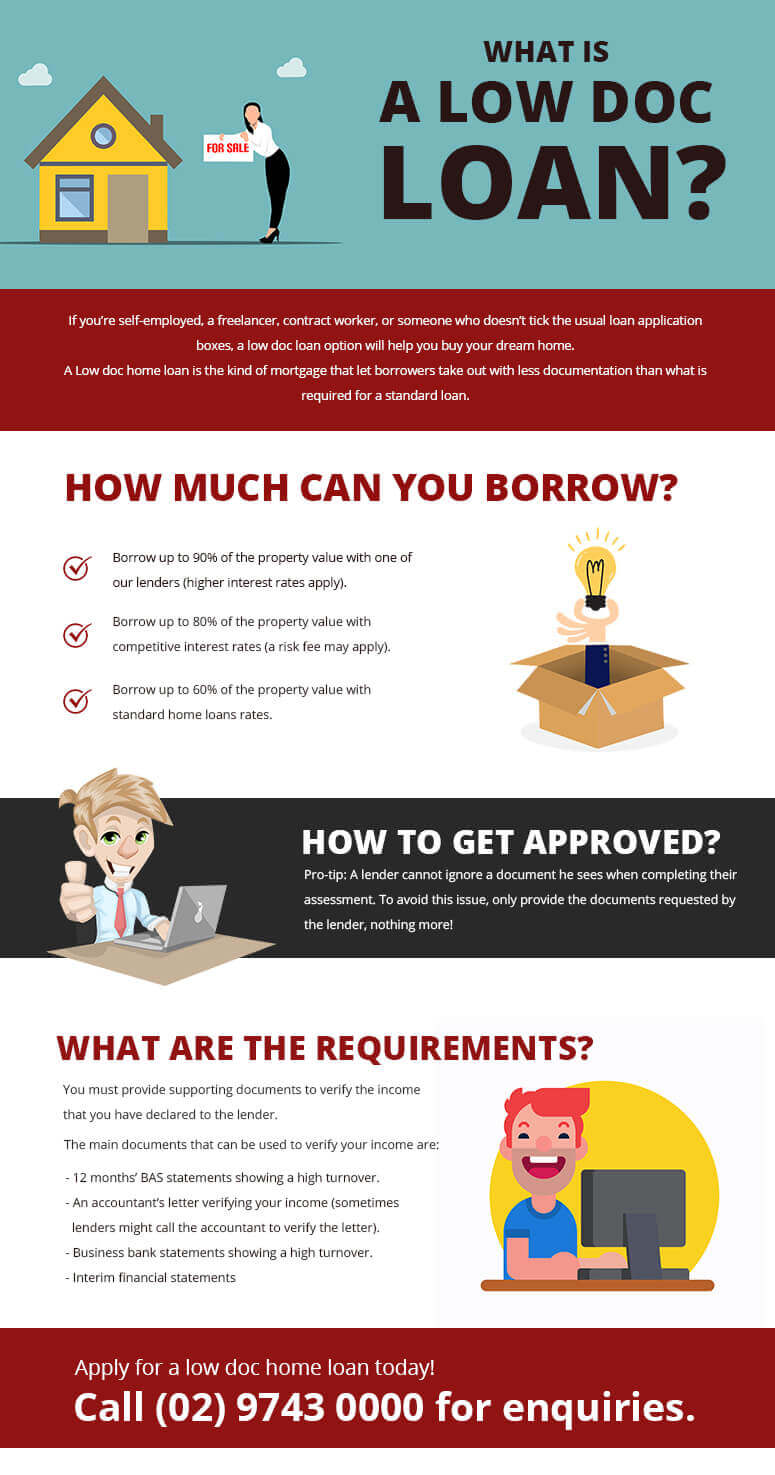 Call Us to Get The Best Low Doc Home Loans
---
On a low-doc home loan, you'll also be required to provide a larger deposit (usually 20%) than with regular home loans. Additionally, lenders typically impose a Lenders Mortgage Insurance if you borrow more than 60% of the home's total purchase price. You can check out any low-doc home loan calculator available online to run the numbers.
How to Apply for a Low Doc Loans
The process of applying for a low-doc home loan is very similar to other types of loans. Aside from having the special documentation and other requirements mentioned earlier, you'll need to make sure you have a favorable asset-to-income ratio and a good credit file. Low-doc home lenders want to see that you are creditworthy. So, you can count on them to do a thorough background check on your ability to make repayments. 
A great way to make sure you will get the home loan you need is to work with a reliable low-doc mortgage broker. At iChoice, we know all the ins and outs of low-doc home loans. We also understand that each lender has its own distinct loan criteria, rates, fees, and features. And, we will work with you in making sure you get the right low-doc home loan that fits your particular needs and situation. We can help you find the lenders with the most affordable low-doc home loan interest rates and lowest LMI premiums. We can even help you find no deposit low-doc home loans and other loan types you might be qualified for. Furthermore, we can provide you with the finest solutions to ensure the approval of your application. 
If you want to apply for a low-doc home loan right now, don't hesitate to consult the experts at iChoice. As former big bank experts, we have the intimate knowledge to help you with all aspects of your home loan application. And while our relationships with the major banks and lenders are important to us, we are completely independent of them and more focused on our clients. To learn more about no-doc or low-doc mortgages and our services, call us on (02) 9743 0000.