Welcome to the bustling world of Sydney real estate, where securing the perfect investment property is like finding a gold mine. But fear not future property moguls! We've got the inside scoop on finding the best investment mortgage broker in Sydney to help you navigate these thrilling waters. Are you ready to unlock the door to your dream investment? Let's dive in!
First things first, let's get down to the nitty-gritty. What is an investment mortgage broker?
An investment mortgage broker is your savvy sidekick who helps you secure the most competitive financing for your property investment. They're the pros at negotiating the best loan terms and interest rates, saving you time, stress, and most importantly, money.
Now, let's turn our attention to the bustling Sydney market. With its booming economy, stunning harbour views, and world-famous landmarks, it's no wonder that Sydney is a hot spot for property investors. But with great opportunity comes great responsibility (and competition). That's where the best investment mortgage brokers in Sydney come into play, guiding you through every step of the home buying process, from loan pre-approvals to settlement day.
So, strap in and get ready to embark on an exciting adventure as we explore expert tips for finding the ultimate investment mortgage broker in Sydney. The perfect partner for your property investment journey is just around the corner – let's find them together!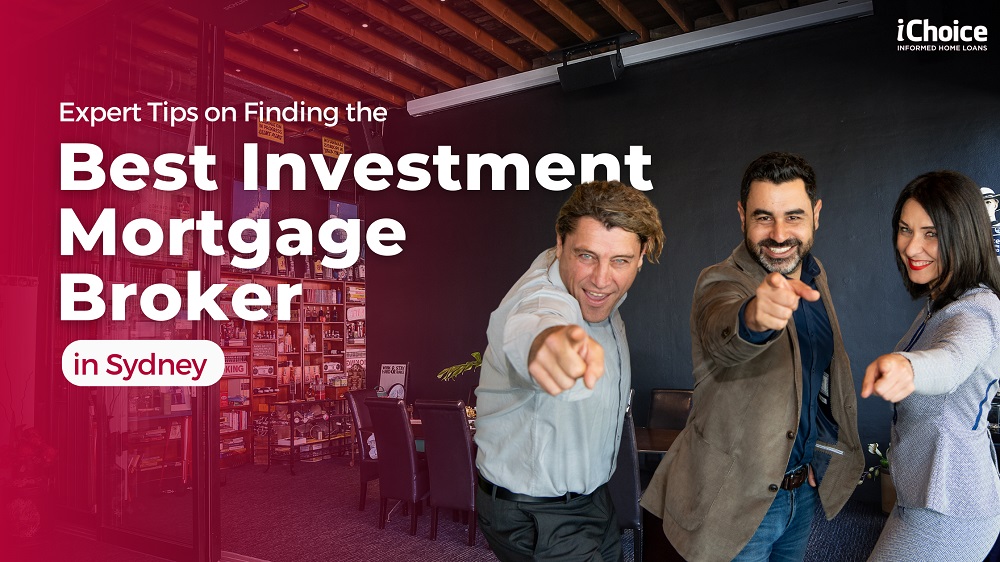 Benefits of Using an Investment Mortgage Broker
Now, you might be wondering, "Why should I use an investment mortgage broker when I can go directly to the bank?" Well, let's break down the advantages of having a professional on your side who knows the ins and outs of the investment property market.
1. Expertise in the Market
Investment mortgage brokers are seasoned professionals with a deep understanding of the ever-changing mortgage market. They stay up-to-date with the latest trends, regulations, and opportunities, ensuring that you make well-informed decisions when investing in real estate.
2. Access to a Wide Range of Lenders
An investment mortgage broker is your gateway to the diverse world of lenders. They have strong relationships with banks, credit unions, and private lenders, opening doors to a plethora of loan products that may not be available to you directly. This means you'll have more options to choose from, increasing your chances of finding the perfect loan for your investment.
3. Negotiating on Your Behalf
Let's face it – negotiating can be intimidating. Investment mortgage brokers are skilled negotiators who will advocate for your best interest. They'll work tirelessly to secure the lowest interest rates and the most favorable loan terms, ultimately saving you a substantial amount of money in the long run.
4. Time-saving
Searching for the right mortgage can be a time-consuming and daunting task. A broker streamlines the process by doing the legwork for you, leaving you free to focus on other aspects of your property investment journey.
5. Specialisation in Investment Properties
Now, here's the real kicker: it's crucial to choose a broker who specialises in investment properties like iChoice. These experts are well-versed in the unique requirements and strategies of property investment, which can give you a significant edge in the market.
The benefits of using an investment mortgage broker are undeniable. Their market expertise, access to a wide range of lenders, and negotiation skills can make all the difference in your property investment journey. Just remember, when selecting a broker, priorities those who specialise in investment properties – they're the key to unlocking your property investment dreams.
How to Choose an Investment Mortgage Broker in Sydney
So, you're ready to find that perfect investment mortgage broker in Sydney who will be your guiding star in the property market. But how do you choose the right one? Here are some tips to help you make the best decision:
1. Research their Experience and Qualifications
Experience matters when it comes to investment mortgage brokers. Dig into their background and find out how long they've been in the industry, the type of loans they've successfully arranged, and the volume of investment properties they've handled. A seasoned broker will have a proven track record of helping clients just like you succeed in the Sydney property market.
2. Check their Qualifications
Ensure that your chosen broker has the necessary qualifications to provide top-notch service. They should hold an Australian Credit License (ACL) or be an Authorised Credit Representative (ACR) of a licensed company. Additionally, membership in industry associations, such as the Mortgage & Finance Association of Australia (MFAA) or the Finance Brokers Association of Australia (FBAA), can be a strong indicator of their professionalism and commitment to ethical practices.
3. Assess their Reputation
Word of mouth and online reviews can be enlightening when determining a broker's reputation. Talk to friends, family, and colleagues who have used an investment mortgage broker, and ask for recommendations. Browse online review platforms and social media for genuine feedback from clients who have worked with the broker. A solid reputation backed by glowing testimonials is a good sign that you're on the right track.
4. Find a Broker Who Understand the Sydney Market
The Sydney property market is unique, and a successful investment mortgage broker should have a deep understanding of its intricacies. Look for brokers who have extensive knowledge of local trends and are up-to-date with the latest market data. They should also have a vast network of contacts within the industry, such as lenders, solicitors, and property managers, to help streamline the process for you.
5. Prioritise Personalised Advice
Every investor has different needs and goals when it comes to property investment. A top-notch broker will take the time to understand your specific objectives and tailor their advice accordingly. Ensure that the broker you choose is willing to provide a personalised approach, rather than a one-size-fits-all solution.
6. Assess their Communication Skills
Clear and consistent communication is vital when working with an investment mortgage broker. You'll want to select someone who is readily available to answer your questions and provide relevant updates throughout the process. Gauge their communication style during your initial consultations and opt for a broker who makes you feel comfortable and well-informed.
7. Compare Fees and Services
Before committing to a broker, it's essential to compare their fees and services with other providers in the market. While cost shouldn't be the sole determining factor, understanding the fee structure and what services are included can help you make an informed decision. Be sure to weigh up the value of their expertise and the potential long-term benefits they can bring to your investment journey.
When it comes to finding the ideal investment mortgage broker in Sydney, it's important to consider all factors. Now, here's where the iChoice difference comes into play. We think outside the box, employing innovative strategies to ensure you get the best outcome for your property investment. In fact, we may even recommend going with two or three different lenders if that would provide the best outcome for you. Our unconventional approach sets us apart from the rest, making us an excellent choice for investors looking for a competitive edge.
Unlock Your Property Investment Dreams with iChoice – Sydney's Premier Investment Mortgage Broker!
Don't leave your property investment dreams to chance. With iChoice, you'll have access to a team of experienced, qualified, and reliable brokers who understand the Sydney market and can provide personalised advice tailored to your needs.
Let iChoice help you navigate the complex world of investment mortgages and secure the best loan for your goals. Contact us now and take the first step towards a bright and successful property investment future!