What are the Pitfalls of Westpac's 2.29% Variable Interest Rate and $3,000 Cash Refinance Rebate
For those dazzled by the variable interest rate of 2.29% just announced by Westpac and the $3,000 cash refinance rebate that comes along with it, I wanted to let you know the 7 pitfalls before you rush into anything.
What you mightn't see advertised is that we can actually shave another 0.10% off when the loan amount is under 70% of the value of the security (LVR), so on this basis, let's firstly see how this deal compares, taking into account all fees etc, over a 2-year term: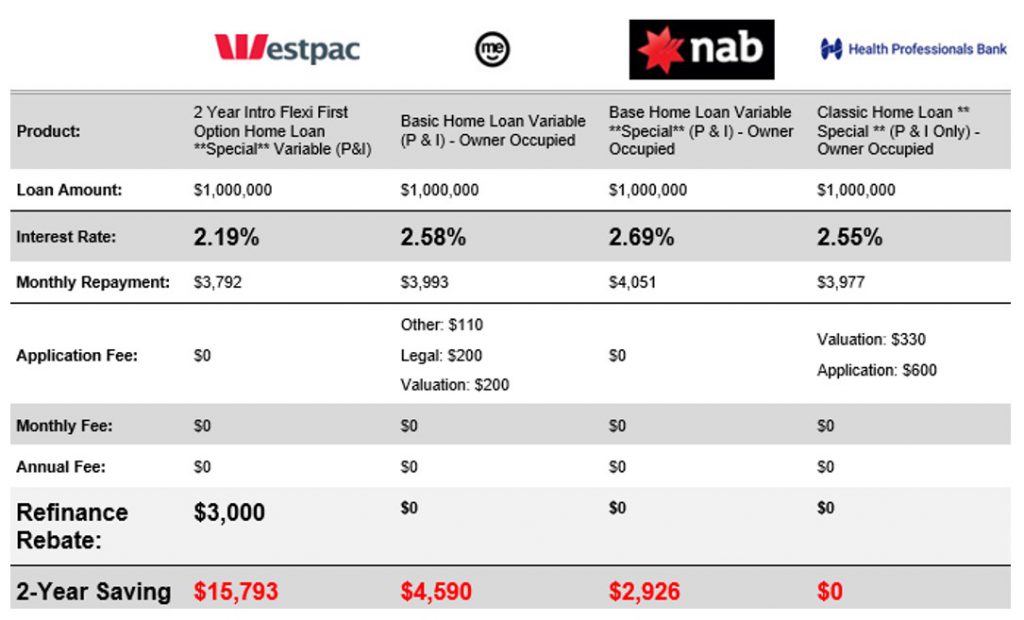 OK, this is clearly market-leading. Coupled with the $3,000 rebate, people stand to save a lot of money over the next 2 years if we're able to help them switch to Australia's oldest bank.
For those whose income has been materially affected by COVID, please ask your existing bank to sharpen your rate for you for now, and when things are back to normal, and they will be, we can then represent you, starting by seeking the best deals on offer for new-to-bank customers at that time.
Anyway, here is the fine print of Westpac's offering:
This product is the Flexi First Options Home Loan. This special Introductory Rate shaves half a percent off the product's rate for 2 years, so after 2 years the interest rate will revert to 2.69% (relative to what base variable rates are at that time).
iChoice clients will be contacted by us 22 months after settlement to prepare for re-negotiation, but unrepresented borrowers might simply not notice or be unsure how to deal with it.
This product is a 'no frills' loan so it does not come with an offset account or a credit card that can be linked to it. But this might not be an issue for some who really can't see the value in paying the annual fee of $395 that 'packaged' products come with.
If it's an investment property loan, the special variable rate is 2.49%. And yes the $3,000 rebate applies. That's pretty cool – there's generally no need for an offset account against an investment loan.
If you're going to end up with a stack in redraw and think your current home might become an investment property one day, this product is not for you.
From a tax planning perspective, redrawing is not at all the same as withdrawing funds from the offset. More info on this is in my Youtube clip Dangers of Redraw.
Please pass this information to first-home buyers who you might know:
Even if you have a 20% deposit to buy a place, St George is right now charging only $1 LMI for 85% loans. Even if you don't need to, you should consider borrowing the bit extra and leaving it available for the future, in redraw or offset, where doing so only costs $1.
You might just be very excited to get into the market, but we'll help you look 5 years ahead and you'll soon learn that having unlocked equity will help with your wealth creation strategy.
I've worked at both St George and Westpac in my banking career before they merged. But even since, it's very much '2 restaurants; 1 kitchen'. Their rates and credit policies vastly differ. Westpac does not offer this $1 LMI special, which is an exclusive offering by the dragon.
CBA will accept casual wages if you've been employed for only 3 months
ANZ will assess self-employed income using only 1 year's tax return ($3K rebate)
ANZ still extends 90% with no LMI to Medics, Lawyers & accountants.
NAB doesn't care if you started your job last week and are on probation.
My point? We need to first establish whether you meet Westpac's criteria.
I love refinancing people's commercial loans to be secured by residential property so they can enjoy a variable owner-occupied rate of 2.59% and get a $2,000 rebate for doing so. This saves commercial property owners tens of thousands and most have no idea that option even exists …
… and stretching their commercial loan to a 30-year term means they can more quickly pay down their non-deductible debt. What an outcome.
I'm sorry, Westpac does not offer residentially-secured commercial loans with you-beaut home loan terms. Westpac is not for you.
Westpac is not in the business of making their shareholders worse off so sorry, this offer is for new-to-bank customers and is not available to existing clients of Westpac, St George, Bank of Melbourne, Bank SA or RAMS.
You need to switch to save to get ahead. Ah geez, the former school teacher in me slipped into a little Iambic Pentameter there, anyway, whoever said that finance can't be poetic?
Guys, Westpac allows us to order modelled estimate valuations which come at no cost or obligation to you. If you'd like to first see if your LVR would be under 70% or 80%, please shoot me the address/es and my team will gladly process this immediately for you.
Relevant articles