In today's blog, Jason reveals the number one risk many borrowers are not aware of and how to prevent this from happening to you.
What is Interest-Only lending? Generally speaking, a home loan typically consists of two repayment parts:
The principal component – the amount you borrow (your loan balance)
The interest component – the amount the lender charges on your outstanding balance over the term of your loan.
With an interest only home loan you can select to only repay the interest on your loan for an agreed period of time. Who are interest-only loans suited to? Interest-only is particularly appealing to people who purchase investment properties with the intention of renting them out to pay the mortgage whilst the property value increases over a long term period.
An Explanation of Interest-Only Lending and Its Concerns In The Market.
What is the benefit of going interest only? In many cases, investors can use this period of interest free repayments to reallocate funds to pay down their own home loan or personal debts. In fact, a few years ago several of the big banks were in favour of offering such loans to investors at a premium where it made sense, particularly because the lender still had the ability to make further principal payments if they wished.
Sounds good to me? What's the catch?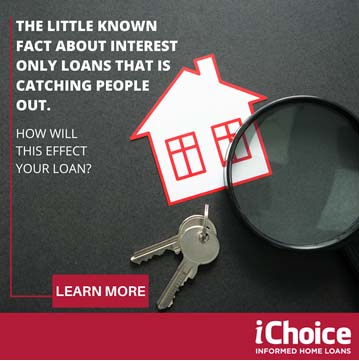 Many borrowers assume when their interest only loan period ends, say after a 5 or 10 year period, they can simply call up their bank and roll over the interest only period again for another 5 years.
However, what many borrowers fail to realise is that once that 5 or 10 year interest only period has ended. The bank will completely reassess everything and determine whether you have the capacity to service that loan over the remaining term.
The loan will be calculated back to the remaining 20 year term with the repayments being even higher than the 30 year loan to start with. For many rolling off this interest only period, they may in fact see their mortgage repayments double
We may see some stress in the property market as these investors come off these interest only loans.