It's challenging to imagine life going on without you, but it's something you must do when setting up your Estate Planning.
Asset Protection is just as important after you die as it is whilst you're working and building wealth. Let's explore how you can 'own nothing and control everything.
For couples, it's often a disaster to leave everything to your spouse.
If I died, and left everything to Tina, to start with she'd be up for another $13,000 in Land Tax every year. She'd also be a sitting duck if for whatever situation she got sued. It will all be up for grabs.
And if my eldest son then wanted to own and move into one of my investment properties one day (worth, say $1M), he'd be up for $40,000 stamp duty to buy it off Tina and oh yes, a Capital Gains Tax event will take place, costing another $160,000.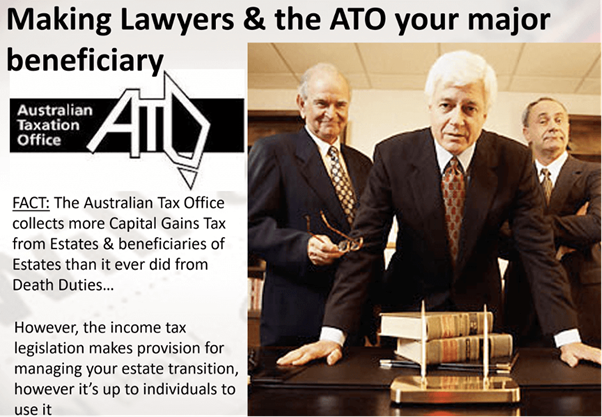 That stuff happens all the time, to people who haven't set things up properly. Clever structures allow 'generation skipping' – avoiding taxes and headaches.
Not that I want anything given directly to my kids either when I die, in case at that time they're being sued, getting divorced or have a dependency problem.
Those with children might think to reconsider their plan like I just did, last week.
Tina and I have 3 sons. We're in the thick of setting up 4 Testamentary Trusts – 1 for each of them, and a fourth for the survivor of me and my wife.
These Trusts can exist for 80 years, so our kids can pretty much leave cash or assets tucked away in their Trust for most of their lives. Whatever happens down the track, the estate (which represents only the wealth Tina and I will leave to them) will remain protected.
They will be their own executor in control of their own Trust but not until they turn 30. Until then, if Tina and I aren't around, we've appointed 3 executors who'll call the shots (a family member, my accountant and my lawyer).
Guys, do you know who your Superfund/ Life Insurance has noted as being the Nominated Beneficiary? It's probably not a good idea to have your spouse there. Often, leaving everything to your spouse can mean:
Your death may immediately cancel their pension (if they're receiving one).
If your partner and you die at the same time, the Superfund/ Insurance company can appoint their own executor and decide to give the money to your kids or whoever without your control mechanisms.
A whole bunch of possible taxation problems
Kurt has instructed me to call MLC and change our Nominated Beneficiary to be 'my estate'. He also printed a form for me to complete to change the ownership structure of a little investment property I recently bought in joint names with my wife. Changing the ownership to be 'Tenants In Common' does not attract stamp duty and works better. Who would have thought! …so much to learn.
And for those of you with kids from previous marriages who have re-partnered, please take this stuff seriously so your passing won't create a financial and emotional mess for everyone. I've seen $600,000 estates diminish into zipping.
And if your partner is younger than you, and you both die at the same time, did you know your Will gets ripped up? It's the Will of the youngest of you that stands. That's the rule, hey, don't shoot the messenger.
In my early 20's I was an Economics and Religion teacher at St Patricks College Strathfield, where I went to school as a youngster, and where my 3 boys attend now.
The school's motto is "Luceat Lux Vestra" which translates to Let Your Light Shine. As a student, I didn't really think it meant much more than a fancy way in Latin to encourage us to try hard at stuff.
But I get it now. It's about putting your talents and compassion to use for the good of us all. It's about not being embarrassed about being good at something. Having potential is a little futile unless the 'goodness' gets a chance to dance, even if it's just a couple of gestures every day.
I wanted to share with you the logo of a charitable association called Sesobel (underneath). It represents the broken candle leaning on the taller candle to receive a flame; but the bigger candle gets a bigger flame itself, by being leant on.
I thought this was a nice message to send out at Christmas.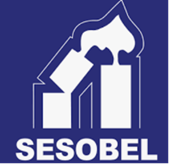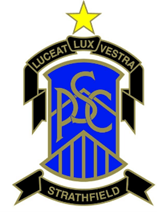 I do miss my days as a teacher, but I do get a lot of satisfaction by educating adults about financial stuff that I've learned over 25 years in banking & finance. I'll continue to send emails around providing little tips where I can because I enjoy it.
Naturally, as a mortgage broker, I get replies and lots of business from them. Well, that's just as well, because restructuring & refinancing loans is the only way here at iChoice that we actually earn any money!
But it's not my only driver. I'm not even sure what my end game is; it's just what I do, and at the age of 51 I'm not going to shake things up too much. Maybe it's the teacher inside me screaming out!
I'm well aware that so many of you not only read these emails; but even forward them to your colleagues and friends – I know this because they then forward it to me to get in touch!.
The success of this little business is due to the support of our clients and fans; I seriously want you out there to be as proud as we are
We've just cut a cheque for $25,000 to support two charities helping the people of Lebanon try and piece together their lives in what is now a catastrophe. It's not a fortune, but it's manageable for us. I know our clients will like it, and since we were able to do it, we did.
So thank you to everyone who makes everything we do here all possible.
I feel I should acknowledge that so many people, including our clients, have gone through devastating grief with so many tragic things that seem to always happen to the nicest people. I hope my financial-based emails don't come across like I think money is everything. Of course, it's not. I know everyone's going through their own stuff and by the way, I'm not Superman in this regard either. But those doing it tough must know that so many of us out there have a lot of empathy for you and will do anything we can to help even if it's just in a small way.
On behalf of the six of us here at iChoice, we wish you all a lovely well-deserved break. Notwithstanding the new COVID variant that's doing our heads in atm, we hope you're looking forward to next year with some level of grace and optimism.
To Victoria, Maroun, Jess, Steve & Sarah well done on another year striving to be better and better all the time, whilst nurturing the needs of each other and our awesome clients – in what has been our most challenging but nevertheless record-breaking year.
We'll be back on deck, hopefully with a suntan, on January 10th ready to settle another $300 million in loans, to improve the financial position of all those who embrace us.
Stay safe, Merry Christmas and see you on the other side!
Jason