Last week I spoke with a lovely 72-year-old widow, who still had a home loan at NAB with a balance of $100,000.
We just lodged her refinance application. She understands that to get the $4,000 refinance Rebate on offer, we need to establish a new Limit of $250,000.
This means that whilst her balance will still be $100,000 (and that's all the interest will be charged on), she'll have the ability to redraw $150,000 if she ever wants to.
It's a basic loan, with no fees at all. The cost of refinancing is $696 (NAB will charge her $350, and the mortgage de- & registration will be $310 and a Title Search fee of $36).
Given the $4,000 rebate, she'll profit a net of $3,304. Nice!
The interest rate for the first 2 years is 4.24%. Doesn't sound great, but to put in perspective, before the rate rises this year, the interest rate was 1.74%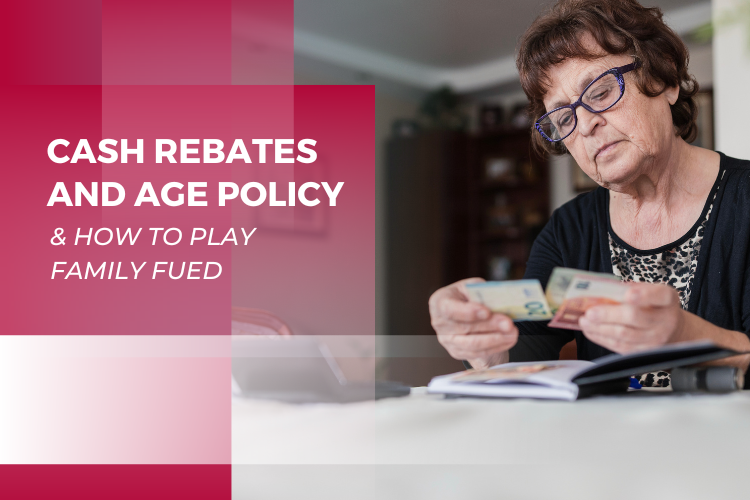 I can assure you, that unless you're on a fixed rate from the good old days, you're paying a much higher rate than my newest client Mary!
The interest she'll get charged in the next 12 months (assuming rates don't change) will be $4,240. But because her Refinance Rebate netted her $3,304, well, she'll only need to find $936.
Some people are a bit confused about 'Age Policy', thinking we don't like to lend to our seniors. This isn't correct. Responsible Lending Guidelines simply require us to determine (in addition to demonstrating serviceability), that by the age of retirement, borrowers will somehow have the ability to pay off their home loan (PPOR) if they wanted to.
This can be demonstrated by:
Having enough funds in Superannuation to do so (in my example above, Mary has $300,000 held in Super, so all good)
Having enough equity in investment properties to demonstrate that selling them would clear the home loan
A believable strategy for the borrower to 'downsize'. We'd need to know what they plan to downsize into and even in which suburb; the banks often do a property search to ensure it's feasible!
Writing $100,000 home loans isn't going to shoot iChoice into the stratosphere, but we love what we do for a living and enjoy helping every single person that puts their trust in us. Sometimes we save you a bit; often we restructure things and change your financial life forever.
I hope you liked my last couple of emails about how to teach little kids about money (Financial Leverage) and how to help your big kids buy a property (Family Pledge/ Guarantor).
But I should have touched on cultivating kids creativity!
A client/ business coach wrote back to my last email (ps I love it when you reply!, don't think you can't just because it's a mass email) saying that creativity is best nurtured with words of authentic praise. Putting his business coach hat on, he added 'creativity is ideas, innovation brings these ideas to market'. Cool, hey?
For those of you my age who grew up with Family Feud, you must buy the board game. The best bit is you download the app on your phones which become your buzzers, and they sound exactly like on TV!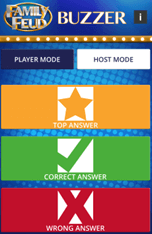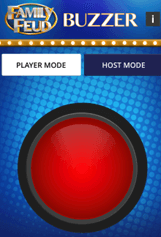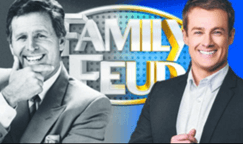 We play this on holidays. We have turns being the host which must be taken seriously (great for the kid's presentation skills). 'We surveyed 100 people and the top 8 answers are on the board ..'
But I soon realised that playing this with my kids is teaching & rewarding them to think like everyone else! Well, to think like the 100 people surveyed.
So we play this game with a twist.
If they come up with a funnier or more clever response than the answer's 'on the board' – well, they win that round.
1.    Name something you couldn't go through the workday without:
Whilst 'coffee' and 'breaks' were on the board, little Tyson came up with 'work' – he wins!
2.    Name something you would be angry at a co-worker for stealing:
Whilst 'pen' and car spot' might be on the board, 'my attention' would certainly win (PS: there are two ways that can be taken Lol!!)
I want to share what my kids did for me recently. They found my 1970's football cards in an old ice cream container in my office and indexed them in albums, with a cover of me on the front!
They're now on my boardroom table so if you're driving past, pop in and check them out!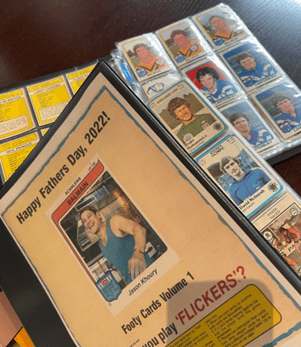 I want my 3 teenagers to grow into respectable, considerate, and financially literate young adults, but I'm certainly not bringing up 3 rule books! Creativity is the source of just about everything excellent, right?
As usual my email had a weird turn there ~ whoops
If you'd like to refinance your home loan for a better rate with a Big 4 bank you can take your pick of:
1.    $4,000 cash rebate, or
2.    $2,000 cash rebate AND 240,000 Qantas Points (120K per borrower)
Which to choose might depend on whether your scheduled flights are work-related, and tax-deductible, right?
But please, only if paying less interest to the bank for your mortgage is important to you. Don't just be encouraged by the cash and the 12 return flights to the Gold Coast ~
Rebates on offer by non-majors go up to $5,000 (for big loans) and some can even refinance a business loan into a housing loan product, where residential collateral is offered.
Next month: refinancing business loans into I.O. housing loans, in-species non-concessional contributions to facilitate SMSF acquisition, Land Tax secrets, and self-employed lending structures that allow your business to trade from an offset account, rather than from a slush account!
Have a great week ~ bring on summer!