We're all looking forward to some freedoms which are now so close here in NSW! How awesome! Anyway here's a story with some lateral thinking, if you have some time to have a read, in our final few days of lockdown 🙂
Dr Ripley knew he could get a better interest rate on his 2 loans, and knows that Citibank & Westpac will give him $6,000 to refinance. But he told me straight out that he simply couldn't be bothered.
He's had his home loan at NAB for 8 years and with so many direct debits coming from his NAB offset account, switching banks isn't something he'll ever do.
But he's certainly paying the lazy tax. His $1,100,000 home loan is on a so-so variable rate of 2.49%.
He fixed his $1.2M investment loan earlier this year at the perfect time, landing 1.89% for 4 years, so he'd be crazy to touch that for the time being.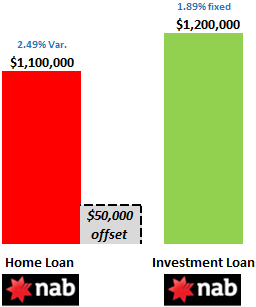 Last month, we got involved. In order to take advantage of Westpac's Basic Intro Variable Rate of 1.99%, we suggested that he refinance a $1M chunk of his home loan to Westpac.
So that Dr Ripley didn't need to change the way he does his banking, we left/ established a $100,000 home loan at NAB (substituting the collateral to be the investment property), against which he now has attached his precious offset account that he's had for 8 years.
Believe it or not, Dr Ripley doesn't need to change the way he does his banking at all!
The cost to do this was exactly as follows:
$ 350 NAB Discharge Fee
$ 147 Mortgage Discharge (Govt fee)
$ 147 Mortgage Registration (Govt Fee)
$ 36 Title Search Fee
$ 0 WBC Application Fee
$ 0 WBC Annual Package Fee
($3,000) Refinance Rebate [the dual $3,000 rebates have been extended]
$2,320 Profit by switching his home loan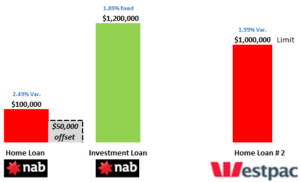 The interest he'll save in the first 2 years is $10,000. Coupled with the Net Refinance Rebate, he's better off by $12,320 in after-tax dollars.
Dr Ripley would need to earn $25,142 to pocket that much cash!
$12,368/ 49% (with Medicare Levy) = $25,142
…all for 2 hours effort to email me a few things. Even the talented Dr Ripley's hourly rate isn't $12,000 per hour!
After 2 years, the Westpac rate will revert to the packaged variable rate of 2.29%.
The Westpac Black Qantas Credit Card that he'll get for free with their package, offers more Qantas Points than the others (0.75 pts/$), 120,000 bonus Qantas Points and two complimentary Qantas airport lounge passes, every year.
And I think it's safe to say we're all itching to fly, anywhere! Let's see when our new Premier thinks that should be!
The other thing I didn't mention is that with 2 other surgeons, Dr Ripley has a $2M business loan at Medfin (NAB) held in their Unit Trust, relating to their two surgeries. Anyway, he should feel better now that NAB don't have a charge over his family home.
Asset Protection 101# Keep your unsecured loans (or those held with associates) separate to your wealth. Don't just have one bank. Don't be that sitting duck. Do your associates have their residential lending at the same bank where you have a joint liability? If they're my clients they certainly don't. Understand exactly what is a Joint and Several Unlimited Guarantee.
We've also lodged a pre-approval for Dr Ripley to buy another investment property.
Notwithstanding his very high income, NAB's servicing calculator shows he can't borrow any more! Without getting technical, Westpac's servicing calculator is much more generous for growing practices or those with company/ trust liabilities.This might (will) change in 5 weeks.
You might have heard on the news that the banks and APRA are about to try and calm the property boom by making it safer (harder) for all of us to borrow. On top of the usual income surplus required, a DTI of 6 is coming into play and will restrict your ability to borrow or refinance. The formula affects investors more than home buyers.
In short, now might be the time to make your move, before you get stuck.
Many people ask what banks I personally have my loans with (kinda like what toothbrush a dentist uses I guess, those my age know what I'm talking about). Well, being honest and open has served me well as an advisor, so here you go:
I have my home loan at ING, Investment Loans at St George and CBA, a commercial loan at ANZ and my SMSF commercial loan at Bankwest.
But as soon as I finalise my 2021 tax returns, I'll certainly be shuffling things around a bit. I'll get $17,000 in rebates* which will get will help me pay the break fees I'll cop for my expensive investment loans.
*Rebates: Citibank $6,000, ANZ $3,000, Bankwest $2,000 and Westpac $6,000.
Yes, of course I'm taking advantage of this Westpac offer! Why would I not?
Sorry for the Iambic Pentameter, but you need to switch to save to get ahead.
For those of you at RAMS, Westpac, St George, Bank of Melbourne or Bank SA, their amazing rates and rebates don't apply to you. Sorry, we'll need to look at other options.
New-to-bank clients always do better. Hey, don't shoot the messenger 🙂
Working at my kitchen bench for the last 3 months has driven me a little batty and apologise for not being as efficient as I normally am. But I'm holding myself together, excited for our country to open up, and as always am here to help you all, ensuring safety and efficiency in your wealth creation journey.
Your free-of-charge, sometimes-Shakespearean financial advisor,
Jason
Jason C. Khoury, JP, Financial Strategist, iChoice Managing Partner
Relevant articles